How to Get Engagement If You Are an Insurance Brand
Darsana Vijay
September 15, 2017 • 10 min read
Updated on March 12, 2018
Social media is a great avenue for brands to create awareness about what they do. For brands with tangible products, in industries like Auto, QSR, Food and Bev etc, it is easier to project what you want your consumers to remember. For instance, think of how central the Coca-Cola bottle is to all their campaigns. They can build on to this easily identifiable object the 'feeling' they want you to associate with the brand and the product.
Insurance companies, on the other hand, have their job cut out for them. There is no 'real' product. Visually communicating their services and the ideals they stand for is challenging. However, social media offers insurance companies a chance to construct themselves as human. This can have a definite bearing on brand awareness and customer sentiment.
In this article, we take a close look at how some of the top South African insurance companies use social media to engage their audience. Brands analyzed include: 1st for Women, Budget, Dial Direct, Discovery, FNB, Hippo, Hollard, Iwyze, King Price Insurance, Miway, Momentum, OUTsurance, Old Mutual, Prime Meridian and Santam.
Here are some general trends we observed from their performance during 1st April – 30th June 2017.
Insurance companies get the most engagement on Facebook. The average interactions on this network was 314, compared to a meager 13 on Twitter and 41 on Instagram.
More than half of all the content published across networks comprises photos.
Photos and GIFs fetched the best engagement on Facebook. These received 1,280 and 296 interactions per post, respectively.
Videos got outstanding engagement on Twitter. These brought in an average of 37 interactions compared to the overall average of 13.
On Instagram, insurance brands posted thrice the number of photos as videos. These fetched 1.5 times more average interactions than the latter.
To get a better view of strategies that worked for these brands, let's take a closer look:
Facebook
All of the insurance brands studied here had a presence on Facebook. Take a look at what these companies use this social network for and how effectively.
Engagement
The chart below shows the likes, comments and shares received by each insurance brand per post:

Hollard got the most interactions per post, overall. They also had the most likes per post. However, OUTsurance took the lead in the average shares per post.
Engagement on its own does not reveal any actionable insights. It is important to understand what elements of these brands' social media strategy paid off.
Posting Frequency
On average, the brands studied here posted 57 times to Facebook during the quarter. The chart below shows the number of posts published by a brand and the interactions per post that they generate. This way we can see if there is a correlation between post frequency and engagement.

What we found though was that the correlation between the posting frequency and the average interactions received by these brands was negligible. For this set of brands and for the time period analyzed, we can confidently say that posting frequency does not matter on Facebook when it comes to engagement.
More and more brands now promote their content to ensure that it reaches a wider audience. This defeats the logic of posting lots to boost total engagement.
Promotion
Promoted content also results in brands getting better engagement. You can see in the chart below how each of the brands studied here has benefitted from promotion:

Dialdirect and Miway promoted just one post each. These performed significantly better than their organic posts. However, brands can't bank on one promoted post alone for engaging their audience during a three-month period. It is important that you maintain visibility and hold their attention consistently.
Contrast this with Hollard, the brand with the most engagement. Unsurprisingly, it had the most number of promoted posts and experienced a 1,332% surge in engagement on those posts. They have strategically selected a few posts from the different campaigns and themes they had going on in the quarter and promoted them. This ensures that their audience do not miss out on content that they've worked really hard on. Take a look at one of their promoted posts:
We will discuss their content strategy in greater detail in a following section.
Hippo, however, promoted the highest percentage of their Facebook content (80%). Though this didn't fetch them an astounding surge in engagement, Hippo's promoted posts seemed to give extra momentum to their organic efforts as well.
Reach and Impressions
Hippo's strategy of promoting a large chunk of their content makes sense when you consider their audience size. They have a fan size that's shy of 20,000, and the lowest in the group. The odds of their posts getting through to a large audience are stacked against them.
With promotion however, their posts receive a wider spread. Old Mutual is the only brand that enjoys a larger audience per post, based on our reach and impression estimates.

Campaign Intel
The easiest way to uncover a brand's social media goals is to analyze their campaigns. Campaigns indicate what each brand is focusing on during a particular period. Further, the way campaigns are structured show what the brand is after – interactions, page likes, reach etc.
Here are a few of the most engaging campaigns from this period:


Both 1st for Women Insurance and Hollard's campaigns involved contests. Using contests is a great way to ensure that your audience interacts with your content. You are giving them an incentive to pay attention to all your content.
But brands who do contests for the sake of interactions do not benefit from them in the long run. The key is to use contests in amplifying what your core message is. This is precisely what 1st for Women Insurance and Hollard have done.
1st for Women Insurance
As an insurance company that solely caters to women, 1st for Women Insurance found content success by welcoming content around women who have a great amount of significance to their audiences. The brand can then repurpose this content sent in by participants in their content creation efforts. In order to attract more attention to the campaign, they included a feature on an influencer (see post below).
The post clinched the most likes on a single post among all the brand posts studied here. The brand's values are made relatable by association. That is, when your audience sends in a picture of a woman they know and respect, her qualities come to be associated with your brand. Since it is somebody that they personally know, this builds an emotive connection.
Hollard
A significant portion of Hollard's content targets young people. Their campaign #StreetWiseFinance employs a great strategy to target this demographic – games. As part of this campaign, they created an elaborate game (vaguely like Monopoly) based on the principles of personal finance. This includes managing a budget, insurance, lending, saving etc.
This way, Hollard can underline the importance of the services they provide and generate better awareness. A big reason behind their campaign success, and overall engagement, is because they targeted and addressed a specific audience in each post.
Content Themes, Top Content
Unlike large insurance brands with a global presence, the insurance companies studied here are headquartered in South Africa. This makes it all the more important to address issues that are specific to the country. As we saw in their campaigns, content around Knysna fires got a lot of engagement. In fact, the post that was shared the most was on that topic: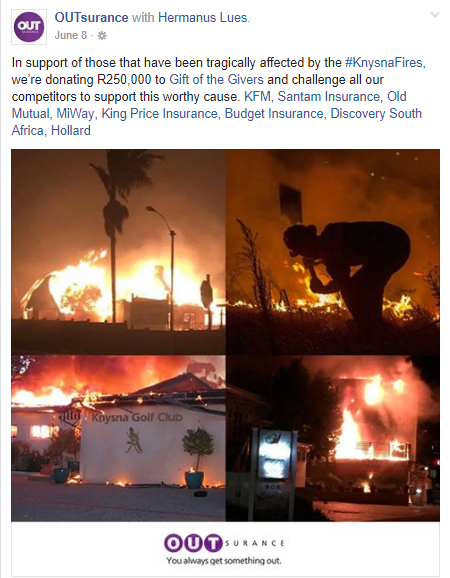 But this is just a fraction of what these insurance brands use Facebook for. Some of the popular content themes were:

Most of these topics cater to a specific audience. With Facebook's targeting capabilities, you can ensure that the content reaches the most relevant audience.
To find out what topics are gaining traction on social media in your industry, visit Discover.
Twitter
Brands use different networks differently and for different purposes. Here, let us take a closer look at what these insurance brands were up to on Twitter and analyze the strategies that were successful.
Engagement
Take a quick look at how these brands fared in terms of interactions on Twitter:

Discovery received the most engagement overall. However, this was also because they posted around 400 times during the period studied here. In terms of average engagement, OUTsurance ranked first. While Discovery received around 30 interactions per tweet, OUTsurance notched up 164 interactions on average. FNB also performed fairly well with 74 interactions per tweet.
But what was the reason behind these numbers? Let's take a closer look at the top content:
Top Content
Most Likes
Thank you for voting us the coolest bank 6th year in a row. * #GenNext2017 pic.twitter.com/ayQvpiJP1D

— FNB South Africa (@FNBSA) May 12, 2017
FNB shared the news about being voted the coolest bank, 6th year in a row. The tweet was sponsored via Twitter Ads, which could be another reason for the high likes count.
Most Replies
We apologise for our Father's Day video. It did not appropriately represent SA's demographics. It was an unintentional oversight.

— OUTsurance (@OUTsurance) June 18, 2017
OUTsurance retracted the video they'd posted to their social channels in connection with Father's Day. They drew flak for not adequately representing all ethnicities. This composed the majority of replies they received. It is also the main reason why they got so many interactions (mostly replies) from so few posts.
Social media has given consumers a voice like never before. Any content that brands produce must not only be looked at from a branding or messaging point of view. Steps need to be taken to ensure it is reviewed to take into consideration current situations, diversity and equality. As Pepsi found out with their recent ad featuring Kylie Jenner, a brand must be sensitive about how it inserts itself into a conversation – or whether it should do so all.
Most Retweets
.@JustinBieber fever hit Jo'burg on Sunday & tonight is Cape Town's turn. Here's a look at what went down #PurposeWorldTour #Discovery48Hrs pic.twitter.com/mcM4MRHc8I

— Discovery (@Discovery_SA) May 17, 2017
Discovery were one of the main sponsors of Justin Bieber's Purpose World Tour in South Africa. They cashed in on the hype around the event to win engagement on Twitter. Could all of Discovery's engagement be because of this one event? Let's explore.
Discovery's Engagement Strategy
Hashtags are atomic units of brand campaigns. To grasp the crux of Discovery's content strategy, take a quick look at their hashtags:


You can see that most of these hashtags are associated with an event – like the Durban Big Walk or the Purpose World Tour. These receive a lot of user tweets and engagement (see chart below). So does their approach of using celebrity ambassadors (see chart below). The popularity of the hashtag '#vitality', for instance, was on account of their ambassador Chad Le Clos' stunning performance at the Olympics.

Instagram
Insurance brands in South Africa have not yet completely embraced Instagram. Of the brands studied here, only 7 had a presence on this network.
Still, we should consider if insurance brands need to maintain a presence on this social network. Let's quickly go over some stats:
Community size
Discovery had the largest audience size and the highest growth rate.

Engagement
Discovery topped the engagement tables on Instagram as well. They had the most likes per post. However, Old Mutual had the most comments per post.

Top Content
Most Likes
1st for Women saw great engagement, posting their best performing Facebook content on Instagram as well. This is a safe strategy for other brands to try out as well.
Most Comments

Old Mutual used the contest format to get more people to visit their brand page and to drive up engagement.
However, Discovery consistently received likes on their posts. They led in likes per post despite having posted 97 times (second only to Old Mutual).
If you take a look at the posts from these brand arranged according to likes, you'll see that it is post after post by Discovery: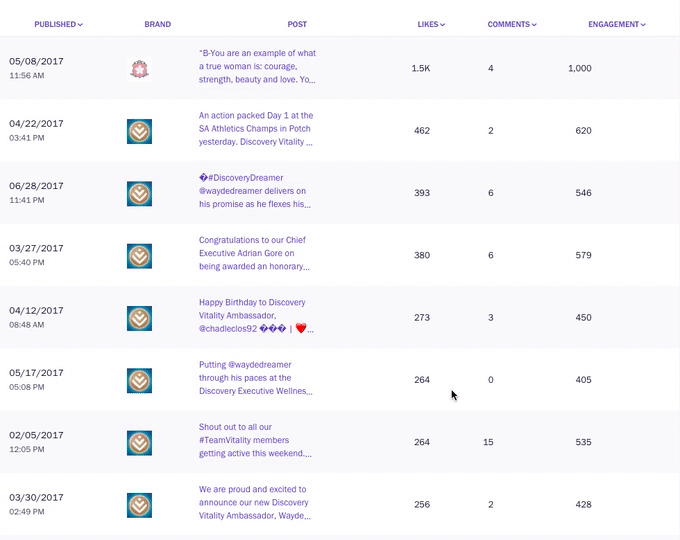 Take a look at their most engaging post:
Here again, they've leveraged the fan following of their vitality ambassador, Wayde van Niekerk. Several of their posts featured other star athletes.
In conclusion, social media success seems to follow the brands that have actively constructed a personality. The insurance brands studied here used themes related to sports, youth, women etc to underline their prime focus.
By talking about these topics, they establish themselves as stakeholders. This way, they can be part of a community with their target audience. Thereby, they can address pain-points, lend sympathy and even establish themselves as thought-leaders.
To gain more data-backed insights on your industry's social media performance, check out Analyze.