Keep Track of Real Time Marketing With Event Pulse
Peter Claridge
January 31, 2015 • 3 min read
Updated on May 2, 2017
The rise of real time marketing over the last couple of years has been unstoppable. It's got to the point where brands are not asking whether they should be capitalizing on live events or current happenings, but how they should be going about it. Real time marketing is disrupting advertising like never before.
From a traditional marketing standpoint, the Super Bowl has always been about the TV ads. The big brands can afford 60 second commercials that run in to millions of dollars and run month long campaigns just to build buzz around the commercial. It all comes with a price tag that smaller or more thrifty brands can't even dream of matching.
But do brands even need big budgets any more to create an impact? Our Head of Marketing, Rick Liebling doesn't think so, "For years, the focus was on the 30-second TV spot, but with social media and consumers embracing the second-screen, brands can create compelling content on the fly without spending $4.5million to show an ad."
From clients to over-worked journalists, we've been receiving more and more requests from people to see a list of brands that are engaged in real time marketing for live events. Clients need to watch, analyze and compare the efforts of brands, learn from mistakes and successes. Journalists need to file stories on a deadline.
There is a huge demand to see a filtered, focused live stream of brand content during live events, which is why we have created Event Pulse.
In the words of our CEO, Lux Narayan, "In a world of fast-moving messages and paid social media, marketers must not only listen to what consumers are saying, but also stay on top of how competitors and other brands are successfully leveraging major events with engaging, inspirational and creative content."
Event Pulse gives any marketer, creative agency or journalist a live stream of brand-only content that's being published before, during and after a live event. It beats any other social media listening tool because Unmetric only shows the content from its database of over 17,000 verified brand Twitter handles.
What does this mean for you? When you watch the live stream of content, you are not getting the noise of millions of users on Twitter talking about the touchdown, you're getting brand reactions, comments and pro-active content on what's happening.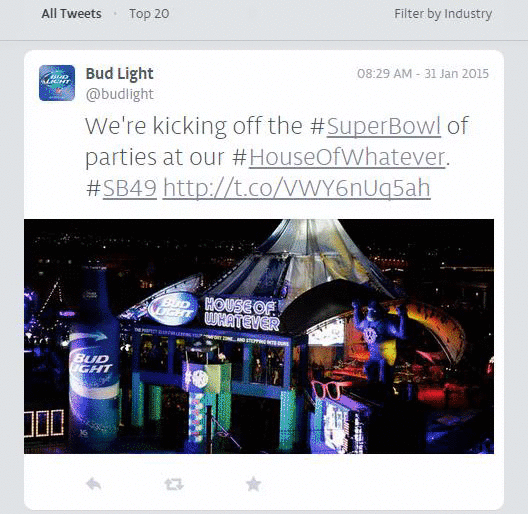 Event Pulse tracks a range of hashtags associated with a live event. In the case of this year's Super Bowl, general hashtags around the event are being tracked along with official and unofficial hashtags from various brand campaigns like #bestbuds from Budweiser.
The live feed shows all brands across industries by default, but this can be filtered by any industry that's relevant to the visitor. Additionally, the top 20 pieces of brand content for the entire live event can be seen at the click of a button.
Event Pulse will be consistently updated to track the latest live events. Watch out for our brand coverage of the Grammys and Oscars coming very soon.