Discover Content Ideas for Indian Holidays and Events
Darsana Vijay
August 18, 2016 • 2 min read
Updated on May 5, 2017
We have exciting news! Couple of months back, we launched our one-of-a-kind content ideation toolkit, Discover. A lot of content creators from India loved the looks and the feel. They had a major qualm though. The list of upcoming events, or rather content opportunities, focused only on US and global holidays. And we listened.
Now you can find any major Indian holiday from Independence Day, Raksha Bandhan, Bakrid and events that are huge in India (read cricket) in the list of topics.
Once you click on the event, you will get a stream of 4 years worth of highly curated brand content around that event. You can drill down and look at content from your industry alone, for a specific time period. You can also sort them chronologically or by the amount of likes, comments and shares the Post has received on Facebook. You can do the same for Twitter and Instagram.
Here's a peek into how easy ideating your Onam campaign is going to be: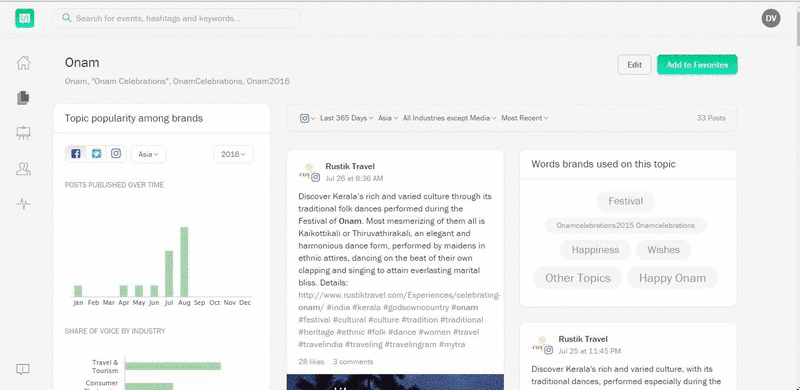 Discover's data-driven content ideation search engine helps you find relevant pieces of brand content. Our 1.3 trillion engagement markers ensure that you get your dose of content inspiration from the very best of brand content that has been published.
Now you can stay on top of upcoming events and holidays that are relevant in your industry. You'll never miss a content opportunity again!
Learn more about how you can use Discover to power your next social media campaign here. Actually, it'll be much easier and more fun learning how to by trying it out. And you can, for free.