3 Reasons Data Should Be Your GPS When Driving Your Social Media Strategy
Aishwarya Krishnamurthy
March 25, 2015 • 5 min read
Updated on May 2, 2017
The question 'Is Don Draper dead?' was the theme of multiple sessions at the recently concluded South by South West conference – the underlying question being – now that marketers are looking towards data for answers, have the 'creative' members of your marketing team been killed off? We're here to tell you – not a chance.
Data and creative are not enemies, they need to be best friends. Click to tweet.
It's an obvious truth that marketing teams are moving/have moved towards data-driven intelligence to better inform their creative strategy. However, the two seemingly opposing roles have the same business objective in mind. If I were to attach an analogy, it's like putting a blindfolded creative in the driver's seat telling them to get to Point X, and then getting data in the passenger seat to guide the car to Point X in the most effective route.
Continuing with the analogy, with the creator of your content as the driver – you can be confident that the wheels keep turning, and the content keeps being created. Your creative team has a bunch of tools at their disposal – From Percolate to HootSuite, the publishing of content is almost like driving an automatic car.
Once you brainstorm a campaign and create the content – at the click of a button – your publishing platform can help you publish content on Facebook, Twitter, LinkedIn, Google+, etc. and even let you schedule multiple posts on the same platform so a campaign can carry itself for however long you need it to, without constant supervision!
As digital marketing has evolved, consumers realized that they had a quicker, more direct line of communication with brands and so publishing only becomes a small wheel within your larger social media strategy. Imagine your customer as a passenger in the back seat, live tweeting his or her experience. Whether this customer is complimenting or critiquing – every brand needs to be listening to their audience and responding appropriately.
Plenty of listening tools like the SalesForce Marketing Cloud and ForSight by Crimson Hexagon, offer listening capabilities that let you keep an eye on brand mentions so that whether the tweets are "OMG I can't believe I got in this car, #neveragain" or "Best ride ever! Has my gold stamp of approval" – your creative team is cognizant of what is being said and is adapting their strategy to address this commentary.
Finally, just like the guide needs a map, data can help guide your content in the right direction. For a second, imagine our driver blindfolded, dutifully driving down a long winding road. With no sense of direction, it's almost like being stuck on a treadmill – moving at full force, but not getting anywhere. Suddenly, he has a feeling that if he took the next exit, he's going to reach his destination – so he takes a left. Only problem is – it's a dead end, and he can't see it so he's going to keep driving on in the wrong direction.
1. Data Can Send You Down The Right Path
Enter data. With her help, the creative can understand before too many resources are wasted, that he's driving the wrong way and that he might want to take a quick U-turn and try something new. She can also tell him about the last couple of decisions he took that worked well for the brand, so maybe he should try those tactics again. More than anything else, data can give creative the assurance that he's going the right way. By analyzing your own previous efforts, your creative team can make informed and intelligent social media strategies because let's face it – a hunch is just not good enough anymore.
2. Competitive Intelligence From Data
Another amazing perk of having data in the car with you? She can keep an eye on the cars around you as well! We touched upon this in a past blog about what the art of war can teach you about your social media strategy.
With competitive intelligence, not only can you analyze your own performance, you can compare your efforts with your industry competitors, giving you a more holistic approach to your content strategy. With the kind of campaign and content intelligence that Unmetric provides, it's like having a fly on the wall in every competitor car – informing you of what their strategy is, and how well it's working for them!
With her eyes peeled for anomalies in engagement, data can tell you that when your competitor stopped to pick up puppies by the side of the road, the audience in their back seat went crazy for it, resulting in your competitor barreling over your brand in terms of social engagement.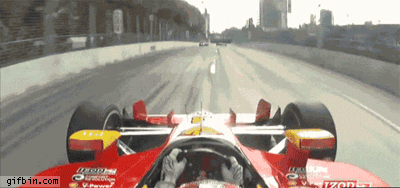 3. Data Might Be Able to Predict The Future
From looking at past events, data scientists can look at the data to determine likely outcomes of future events. For example, wouldn't it be useful to know before you publish a piece of content how it will perform? Wouldn't it be useful to know that boosting a specific type of content at a specific time would result in far more engagement? Predictive analytics has the potential to change the way content is created.
The Intelligent Social Media Workflow
In this way, the process of Listening, Publishing and Analyzing is essential to the modern marketing team in creating an intelligent social media strategy. With the sheer number of tools at your disposal, it's likely that during an audit, the clown car of tools unleashes multiple tools that seemed like a great idea at the time, but you haven't used some of them in ages – wasting resources.
By understanding the role of each tool in your workflow as well as the relationship between your tools – How does listening influence publishing? How does comparing influence listening? How does analyzing lead to ideation?
These are just some of the questions we answer in our latest eBook – Listen, Publish, Analyze where we walk you through the different stages of a complete and intelligent workflow, suggest leading vendors in each field, and explain how best to connect the dots of all your tools, into one cohesive workflow.